Steel springboard is a good helper for fire prevention
---
---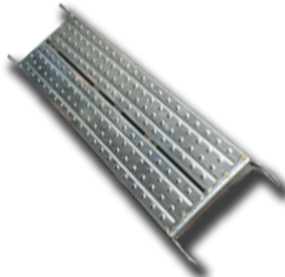 In recent years, with the continuous development of high-rise buildings, the types of scaffolding for building exterior walls have also been constantly innovated, but the springboard has remained basically unchanged. Due to low prices and deep-rooted traditional habits, the update of springboards is very slow. Currently, a considerable number of construction sites in the market still use bamboo (wood) springboards.
During the construction process of the building, the surrounding areas are covered with scaffolding, completely enclosing the entire building. This densely enclosed environment creates very good conditions for fire hazards. The flammability of bamboo (wood) springboards is the main culprit causing fires, and a cigarette end can potentially cause a devastating fire accident. How to effectively prevent fires? Defa Foundry has taught us through years of experience that the replacement use of steel springboards can greatly reduce the potential fire hazards of scaffolding and greatly reduce fire accidents.
The physical properties of hot-dip galvanized steel springboard determine its fire resistance performance. Hot dip galvanizing process flow: finished product pickling - water washing - adding auxiliary plating solution - drying - hanging plating - cooling - medicating - cleaning - polishing - completion of hot dip galvanizing. The surface of the steel springboard is coated with a zinc layer, which serves the purpose of corrosion prevention, rust prevention, and fire prevention.
---