What factors are related to the quality of steel springboard
---
---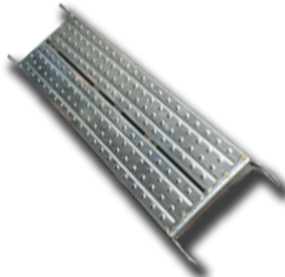 Steel springboards are commonly used in the construction industry, and in order to ensure the correct implementation of buildings, it is necessary to choose high-quality products. The steel springboard production factory teaches you how to choose high-quality steel springboards, so what factors are related to the quality of steel springboards?
1. Steel material: There is a fundamental difference in the hardness of steel between small steel springboard manufacturers and large steel springboard manufacturers. Some steel springboard manufacturers' materials cannot meet the requirements and crack after a few months, affecting the service life of the steel springboard.
2. Steel plate thickness and surface treatment: The thickness of the plate determines the service life of the steel springboard. If your construction period is short, within 3-5 years, then you should choose a board with a thickness of 1.2mm; If the service life is longer, then choose a plate thickness of 1.5mm, which has a service life of 6-8 years. But if the surface of the product is produced using galvanized steel springboards, their corrosion resistance is much stronger than ordinary steel springboards, and their service life will be longer.
3. Steel springboard technology: The design and production method of steel springboards have a great impact on their performance. Our steel springboards are designed reasonably, slip resistant, secure, and resistant to corrosion and wear, not easily damaged, sturdy and durable, safe and reliable, and have been loved by a large number of users.
---