Safety knowledge of steel springboard
---
---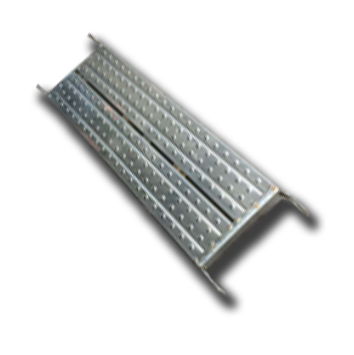 The development of the construction industry is getting faster and faster, and other equipment in the construction industry has been greatly developed, such as steel springboards. Steel springboards are important equipment for high-altitude operations, and steel springboard manufacturers need to understand their safety knowledge.
The steel springboard is lightweight, easy to move, and easy to install and use. It is necessary to understand its safety knowledge. The key to using a steel springboard is to establish a method for lifting the steel springboard, which must have sufficient strength and embedded steel rings or safe use of wall bolts. When repeatedly used, the steel frame should be carefully inspected. Often, local fractures or deformations may occur due to dismantling or detachment of the steel frame, which must be repaired and reused. The side hanging steel plate must be sealed. Installing and disassembling the lifting steel plate is dangerous, and we must choose experienced personnel to participate in professional training to ensure safety.
Steel springboards also require a protective layer. It requires protective devices to reduce losses caused by collisions and friction. The important thing is safety during use. Safety accidents often occur during construction, and safety awareness is urgent.
---