Practical Method for Testing the Quality of Galvanized Steel Springboard
---
---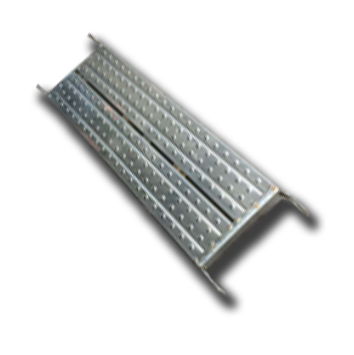 Steel springboard is a lightweight new type of scaffolding springboard, commonly used as a construction tool in large-scale construction projects such as modern architecture, energy, chemical engineering, shipbuilding, etc. It adopts the technology of turning and punching holes, which reduces the weight by one-third compared to the old steel pedals. Although this new product has good performance, it should also be noted when purchasing.
The quality of the steel springboard directly affects the effectiveness of use, therefore, it is important to pay attention to the following points when purchasing:
1. Appearance and welding requirements: Visual inspection by quality inspectors.
2. External dimensions: Measure using a steel tape measure.
3. Raw material requirements: Each batch of steel springboards must have a material report or a testing report issued by a testing agency upon arrival at the factory.
4. Board surface deflection: detected on the platform.
5. Load strength.
Galvanized steel springboard manufacturers have the advantages of fire prevention, sand prevention, light weight, corrosion resistance, alkali resistance, and high compressive strength. The surface has concave and convex holes, and the I-shaped design on both sides has obvious advantages compared to other types of products. The hole spacing is neat and standardized, and the appearance is beautiful and durable (it can be used continuously for 6-8 years under normal construction). The sand leakage hole technology used at the bottom has played a role in preventing sand accumulation.
---