Introduction to Rainwater Grates
---
---
Rainwater grates, as the name suggests, are products used when it rains. Belongs to the steel grating series. According to different raw materials, it can be divided into two types: stainless steel and galvanized carbon steel. Most of it is used in the environment on both sides of municipal roads. Cover plates for drainage equipment or manhole covers for urban sewers will be used. In addition, both the drainage facilities in the factory area and the drainage facilities in the residential area will use rainwater grates. Due to special anti-corrosion treatment, it can be soaked in rainwater for a long time. Rust can be said to be a durable green product.
There are various sizes of rainwater grates, which can be 300mm in length and width × 500mm, 400mm × 500mm, 400mm × 600mm, 500mm × Various specifications including 500mm. According to the thickness, there are products such as 20mm, 30mm, 40mm (suitable for cast iron and stainless steel grilles), 25mm, 38mm, 50mm (suitable for fiberglass grilles), etc. Of course, these are just some commonly used sizes. In most cases, rainwater grates of different sizes will be customized according to different usage environments and are not limited by the above dimensions.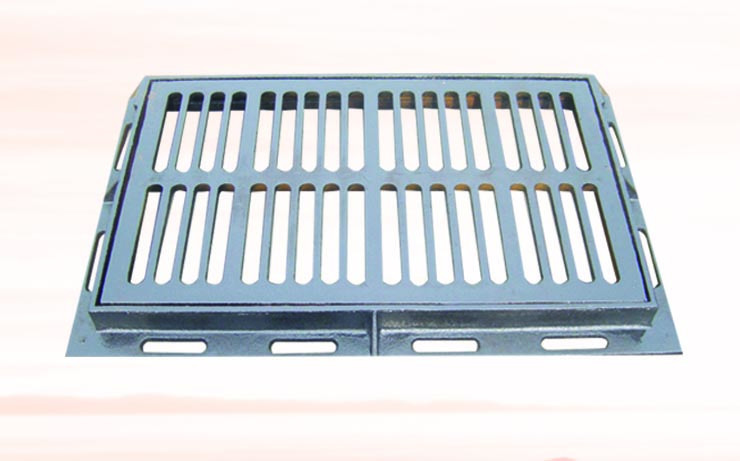 The use of rainwater grates is very important. We usually refer to it as a drainage ditch. The design and construction of drainage ditches are very important, which is related to the effectiveness of drainage ditch products. Regarding the design and construction of drainage ditches.
The design of landscaping and drainage projects should consider the beauty of the entire greenery, and also allow these water supply and drainage facilities to play an important role. Landscape designers should conduct on-site inspections before design, and scientifically and reasonably arrange drainage ditches based on the actual terrain, buildings, and surrounding conditions to achieve good results.
Using finished drainage channels not only effectively removes surface water from the garden, but also is economical in the long run and easy to maintain. After adding decorations such as stones, the landscape remains natural. While ensuring the construction speed, there will be no tilting or full cracking like other circular ditches.
Almost all finished ditch applications in landscaping have a common feature, which is that they do not have high load-bearing requirements, but must be able to quickly and effectively remove surface water. The specific use can be summarized in five words: block, product, partition, and derivative.
When using this method for drainage design, designers should pay attention to controlling the slope of the ground, not making it too steep, and also use the terrain to intercept and organize drainage. In the past, in the process of selling finished product channels, the design of a project was successful. By utilizing the impermeability of our completed drainage system, we can 'store' water. This is because in addition to drainage, necessary watering and irrigation are also essential in landscape beautification. Then, the design combines our completed drainage ditch with the drop. This well is used as a water storage system for storing irrigation water. You may as well refer to it.
Cast iron manhole covers are also one of them. So what are the common components of cast iron manhole covers? The editor of Rainwater Grate will introduce it to you.
Pig iron is an iron carbon alloy with a carbon content of over 2%. The carbon content of industrial pig iron is generally 2.5% -4%, and it contains elements such as C, SI, Mn, S, P, etc. Made by smelting iron ore through a blast furnace. According to the different forms of carbon in pig iron, products can be divided into steelmaking pig iron, casting pig iron, and ductile iron.
The precipitated graphite is spherical cast iron. The fragmentation effect of spherical graphite on the metal matrix is smaller than that of flake graphite, making the strength of cast iron reach 70-90% of the strength of the matrix structure, and the tensile strength can reach 120kgf/mm2. It has good toughness. The chemical composition of ductile iron, except for iron, is usually 3.6-3.8% carbon content, 2.0-3.0% silicon content, with a total amount of manganese, phosphorus, and sulfur not exceeding 1.5%, and an appropriate amount of rare earth, magnesium, and other nodularizing agents are added.
---