Precautions for the use of cross fasteners
---
---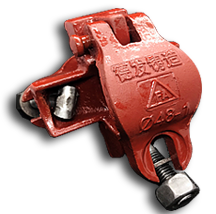 What are the precautions for using cross shaped building fasteners?
1. The vertical pole extension of cross building fasteners must be connected with butt fasteners for all joints except for the top step, which can be overlapped. The overlapping of docking fasteners should comply with the following regulations: the overlapping length should not be less than 1m, and not less than 2 rotating fasteners should be used to fix it. The distance from the edge of the end fastener cover plate to the rod end should not be less than 100mm. The docking fasteners on the vertical pole should be arranged in a staggered manner, and the joints of two adjacent vertical poles should not be set in synchronization;
2. Appearance quality requirements for cross shaped building fasteners: Fasteners with cracks, deformation, or bolt slippage are strictly prohibited from use;
3. Before using cross shaped building fasteners, sampling inspection must be carried out, and the quantity of sampling inspection shall be in accordance with relevant regulations. Those that have not been tested or fail the inspection shall not be used.
4. The unloading process should comply with the following regulations: it is strictly prohibited to throw fasteners from high places to the ground.
5. During the use of the template support, it is not allowed to arbitrarily remove the rods. When there are equipment foundation trenches under or adjacent to the template support foundation, excavation is not allowed during the use of the support, otherwise measures must be taken.
6. A horizontal bar must be installed at the main node, which is fastened with right angle fasteners and is strictly prohibited from being removed. The center distance between the two cross fasteners of the main node should not exceed 150mm.
---