Advantages of galvanized steel springboard
---
---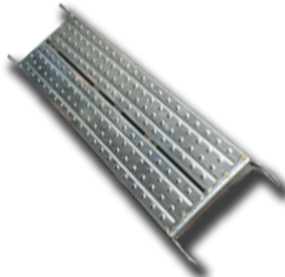 At present, hot-dip galvanized steel springboard manufacturers have been widely used in various construction projects, and have reached strategic cooperation with many petroleum and petrochemical construction enterprises in China, becoming the choice of most industrial enterprises. Application industries include petrochemical, water conservancy and hydropower, transportation and civil engineering, civil construction, and ocean engineering.
Advantages of galvanized steel springboard in our factory:
1. Patent punching design, anti slip and weight reduction, reducing the self weight load of the scaffold.
2. The design of reinforcing ribs not only enhances the bearing capacity of the springboard, but also solves the problem of drainage on the board surface. Suitable for construction under various weather conditions.
3. The surface is hot-dip galvanized, with an effective service life of 5 years for fire prevention and anti-corrosion.
4. The side box design perfectly covers the G-shaped section of the springboard, increasing load capacity and enhancing deformation resistance.
5. Flat braces, square braces, and trapezoidal braces enhance the support of the springboard in sequence, providing customers with diverse choices.
6. The spacing between 500mm middle supports effectively enhances the deformation ability of the springboard from a mechanical perspective.
---