Issues to pay attention to when constructing cement manhole covers
---
---
Issues to pay attention to when constructing cement manhole covers:
Cement manhole covers, as traditional manhole covers, have a long history of use. Our company's cement manhole cover is designed reasonably, lightweight, safe and reliable to use, avoiding the phenomenon of traditional cast iron wells being easily stolen and cement manhole covers not sinking. During installation, special attention should be paid to the connection with the surrounding ground to avoid color differences or cracks around the sink or manhole cover caused by different construction techniques, which greatly affects the aesthetics and usability of the road. When the concrete pouring module can be installed, it can replace the traditional clay brick method. In order to reduce wellhead pressure, the coverage coefficient of steel wire mesh that can also be used for trapezoidal sections has been fixed.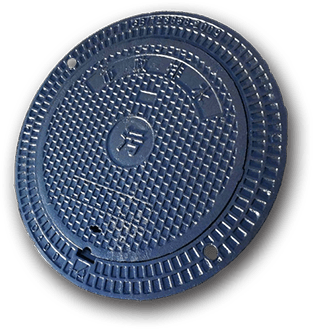 The masonry of cement manhole covers should be determined based on the design manhole cover size, inner diameter, length * width, and square circle, and can also be executed according to corresponding standards. When constructing a well, it must be noted that the inner diameter of the wellhead should be consistent with the inner diameter of the manhole cover grate, and the installed manhole cover should be flush with the road surface.
To maintain the appearance of the cement manhole cover, with clear patterns and handwriting on the surface, the cement manhole cover mold should be covered with a thin iron sheet or brushed with waste oil during asphalt pavement construction to prevent asphalt oil from spraying onto the manhole cover; When constructing cement pavement, cover the manhole cover with plastic film to prevent cement mortar from polluting the surface of the manhole cover, damaging the surface patterns and handwriting, or clean the surface of the manhole cover with water at the end of the construction day.
Selection of manhole cover weight:
Many people use what they see as their true feelings to express their inner thoughts. Just like cast iron manhole covers, when you see that they are thick, bulky, and heavy, you will think that they should be heavy, sturdy, and absolutely durable. In fact, this is just our intuitive idea. Below, the editor will tell you about different types and grades of cast iron manhole covers.
For lightweight cast iron manhole covers, residential buildings are often used, with places where institutions are integrated, places where pedestrians pass by, but also places where a few motor vehicles fly out. These lids are usually used in the exam room.
For medium weight cast iron manhole covers, used to maintain streets or areas with moderate traffic flow, such as parking lots.
For heavy cast iron manhole covers, they are commonly used in public institutions, main roads in commercial areas, and places where heavy vehicle wheels are loaded, such as areas where buses are concentrated.
For overweight cast iron manhole covers, they are often used for loading and unloading trucks/trailers. Regardless of the location of the well chamber, the wheels have strong load-bearing capacity and can be used when loading a weight of 5 to 10 tons.
So here, we can no longer say that cast iron manhole covers are thick and foolish products. In fact, there are many types of cast iron manhole covers, and they are tailored according to the usage scenario. Therefore, when using cast iron manhole covers, it is necessary to choose parameters and specifications based on the usage scenario to help the normal use of cast iron manhole covers.
---